There are many great cities to move to if you're keen on relocating to Orange County in Central Florida. Each has their reasons for luring would-be residents, but if you're looking for a town that "has it all," then consider the luxury houses for sale in Windermere, FL.
Table of Contents:
IT'S TIME TO CALL WINDERMERE YOUR HOME TOO!
WELCOME TO WINDERMERE!
Windermere is one of Orange County's oldest and most prestigious communities, boasting stunning luxury lakefront homes, tree-lined streets, and private living. This makes the town extremely popular among Central Florida's rich and famous. In fact, Windermere has had more than its fair share of celebrity residents, including Shaquille O'Neal, Tiger Woods, and Morgan Freeman.
In spite of the status and affluence of residents, Windermere remains a tight-knit and family-oriented community. It isn't uncommon to see neighbors chatting with each other during their morning walks or hosting backyard barbecues for their neighbors. The town also hosts local events throughout the year to foster camaraderie within the community.
How Windermere began
After Florida became the 27th U.S. state in 1845, the government tried to find ways to encourage people to settle in Central Florida. To this end, the government developed a program that gave away 160 acres of land for free to anyone who would cultivate at least five acres and build a cabin. This program attracted many settlers to the area. One of the earliest settlers, Dr. Stanley Scott, moved to the area in order to grow citrus. Many other settlers joined him, but the Great Freeze of 1894-95 wreaked havoc on the citrus fields, stalling the growth of the town.
This changed in 1910 when Dr. J.H. Johnson and J.C. Palmer bought the town and formed the Windermere Improvement Company. The two focused on building a large number of homes and setting aside even more land to grow citrus fruits. This time, the efforts paid off and Windermere began to develop rapidly. Many wealthy "Northerners" began purchasing homes in the area so they could escape cold winters. In 1925, Windermere was incorporated as a town.
Today, Windermere is a beautiful town with over 3,000 residents.
Location
Windermere, FL is located on a narrow section of land where Lake Butler, Lake Down, and Lake Bessie intersect. This allows Windermere residents to enjoy both breathtaking natural beauty and unparalleled privacy.
Its location also offers residents convenient access to the rest of Orange County. Downtown Orlando and the Orlando International Airport are both just a 30-minute drive away from Windermere. As such, residents are able to enjoy the best of both small-town life and metropolitan living. At the same time, Disney World is only a 20-minute drive, while Universal Orlando Resort is just 15 minutes away.
LUXURY HOUSES FOR SALE IN WINDERMERE, FL
Given its status as an upscale town, many of the houses for sale in Windermere, FL are luxury homes. This is especially true for homes located in Isleworth, which is Windermere's most prestigious gated community. However, other options can be found throughout Windermere with the help of a trusted local Realtor®.
Housing market overview
As of September 2022, the median listing home price in Windermere was $785,000. This represented a 26.6% increase year over year, mostly driven by the town's reputation and popularity. However, the median listing home price takes all property types into consideration. Those in the market for luxury homes should expect to see higher prices, with a number of homes being listed for $3,000,000 or more.
In the same period, the median days on the market was 57 days, representing a 15-day increase compared to August 2022. This is mostly due to a combination of the rate hikes implemented by the Federal Reserve and the fact that luxury homes tend to move slower than other property types.
The longer median days on the market should be good news for buyers as they can look at several luxury houses for sale in Windermere, FL without the fear of missing out on the chance to bid on their top options.
Types of properties
Single-family homes
Windermere offers a fair number of existing and new single-family homes. Many of these homes boast large lots and feature amenities like en suite bathrooms for every room, swimming pools, and multi-car garages. Some luxury single-family homes may also offer private access to one of the three lakes that surround Windermere. This lake is part of a chain of 11 lakes connected together by canals. The chain of lakes is a major part of Windermere's living.
Common architectural styles seen in single-family houses for sale in Windermere, FL include:
Mediterranean Revival
Pish Colonial
Victorian
Modern
Condo units
There are several condominium communities in Windermere that offer beautiful modern amenities. These properties are particularly popular among real estate investors looking to rent the units out to young, single professionals looking to move to Windermere.
Townhomes
By definition, townhomes are multi-level houses with one or more walls shared with neighboring properties. Unlike condos, the land that townhouses are on belong to townhome owners. Their relatively affordable prices compared to single-family homes make townhomes an attractive option for young families moving to Windermere.
Living in Windermere, FL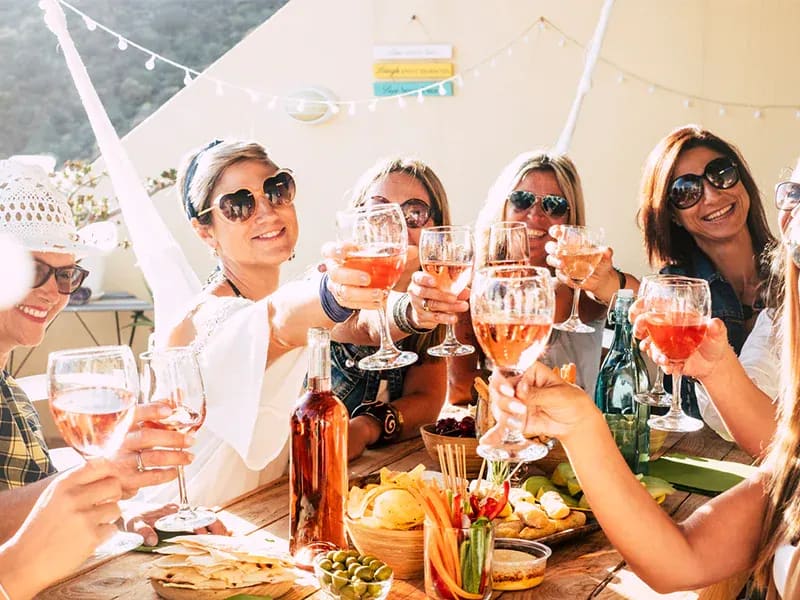 Life in Windermere is often described as quiet and easygoing thanks to its prime location, fantastic weather year-round, and family-friendly attractions. Here are some of the top activities and locations readily accessible to those living in Windermere.
Historical landmarks
There are a number of important historical landmarks in Windermere that preserve the memory of the town's founding:
The Historic 1890 Windermere School House was the very first school in town. It was used as a schoolhouse until 1916.
The Windermere Town Hall has been a cornerstone of the community since it was built in 1924. It was originally the Windermere Woman's Club.
The Cal Palmer Memorial Building was the former office of John Calvin Palmer, one of Windermere's founding members. It was built in 1911.
All three of these landmarks are officially listed in the National Register of Historic Places.
Nightlife
The nightlife in Windermere is more vibrant than most people initially think. There are a number of bars within town, giving adults a variety of options for when they want to have a good time.
Feather & Quill is one of the latest additions to Windermere's bar scene. Opening its doors in 2020, this restaurant and craft cocktail bar is the perfect place to meet up with friends and enjoy a drink at day's end. The bar is best known for their signature cocktails. The Seasonal Spritz (Gin Lane gin, strawberry basil syrup, fresh lemon, yellow chartreuse, orange bitters, soda) and Dr. Feelgood (Rittenhouse Rye whiskey, Disaronno amaretto, house cabernet syrup, lemon) are great options for first-time guests. If you prefer beer, Feather & Quill also carries a nice selection of local Florida brews.
Despite being named after the food centers found in Singapore, Hawkers Asian Food Street combines different Asian cuisines to create a unique experience for diners. The same can be said for their drinks menu. They serve a wide selection of Asian liquors like sake and Japanese whisky. The star of their drinks list is definitely the 18-year Suntory Yamazaki, one of the world's most sought-after bottles of whisky. The Asian-inspired cocktails, like Malaysian Mule and Margari-Thai, are also a hit among regulars.
To make sure the wines in The Vineyard are of the highest quality, an in-house sommelier curates the wine selection. For the complete experience, first-time guests are encouraged to order the Charcuterie Board or Cheese Plate. While placing food orders, guests may consult the in-house sommelier to learn more about the perfect wine pairing.
Museums: From Art to Railroads
Windermere's convenient location allows residents to easily access some incredible museums in Central Florida:
This free museum in the nearby Winter Garden showcases the fascinating history of railroading in Central Florida. The incredible collection of photos, exhibits, maps, and historic artifacts are sure to inspire railfans of all ages. Catch the museum's regular events, including Lego Da, an open house, and the Downtown Walking Tour.
The Morse Museum is best known for housing the world's most comprehensive collection of artwork by Louis Comfort Tiffany, an American artist and designer renowned for his work in stained glass. He was also the first design director for his family's company, the world-famous jewelry brand Tiffany & Co. The museum also offers fun activities inspired by the works of the artist.
The Orlando Museum of Art is the leading cultural institution in Central Florida. The museum regularly rotates its exhibits, presenting 10-12 on site and 13 offsite exhibits every year. Visit the website before your planned visit to check out which exhibits are scheduled or on display. They also offer a wide range of family-oriented programs designed to provide families with an outlet for artistic expressions.
Dining
Despite being a "small town," Windermere's food and beverage scene definitely packs a big punch. Some cater to the international palate of residents and visitors. Some of the most popular restaurants in Windermere include:
Pizza 14 tends to blend in with the rest of the houses on Main Street, but make no mistake: this is the home of arguably the best pizza in Windermere. Residents regularly rave about the pizzas made with fresh ingredients every day. The menu here may be small, but this helps the restaurant ensure the quality of its pizzas. First-time diners should definitely try the white margherita pizza and the three meats pizza. Guests may also opt for additional toppings to customize their pizza of choice.
Tomatoes Home Style Cooking is highly rated and takes pride in serving fresh and healthy Mediterranean fare. Locals absolutely love the restaurant for its convenient location, reasonable prices, and amazing flavors. Must-try dishes include their famous gyro (chicken, beef, or lamb), Greek salad, and wild-caught salmon. They also offer family-sized trays for when you need a quick place to grab dinner on the way home.
Dixie Cream Cafe is a go-to for residents looking for a hearty breakfast or brunch. It boasts a unique aesthetic with its swanky chandeliers and collection of local artwork. The restaurant is a local gem and was featured on the Rachael Ray Show. Those who prefer a heavy breakfast will definitely want to try Dixie's Famous Brisket Hash, beef brisket slow-smoked for 12 hours and served with homemade hash, two eggs, and a buttermilk biscuit. Other popular menu items include the salmon benedict and the 38 Special, an omelet with smoked ham, applewood-smoked bacon, Italian sausage, chorizo, and jack cheese.
Education
Windermere is considered one of the best places to raise a family in Florida due in part to the excellent public and private schools in the area. Many of the schools here are among the highest rated schools in Central Florida:
Windermere Elementary School
Keenes Crossing Elementary School
Bay Lake Elementary School
Gotha Middle School
Windermere High School
Olympia High School
Windermere Preparatory School
Shopping
Windermere is always just a few minutes away from the fantastic shopping options in Central Florida. If you're in the mood for a little retail therapy, make sure you hit up the following shopping centers and malls:
The Grove is the premier one-stop shop in Windermere. Here, residents can easily find health and beauty services, fashion retailers, a grocery, banks, telecom services, and restaurants. In fact, many of the frequently visited places in town are found at The Grove.
If designer brands are your thing, head over to The Mall at Millenia, which is only a 30-minute drive away from Windermere. Here, shoppers can find luxury brands like Louis Vuitton, Guci, Prada, Chanel, Cartier, and more. The mall also offers a personal styling service for shoppers who want to build a coordinated wardrobe. Interested guests may book a session at The Mall at Millenia website.
Annual community events
Windermere's annual events are designed to offer family-friendly fun and bring the community closer together. Therefore, save the dates for the following: That said, make sure you add the
The PetFest is Windermere's annual celebration centered around the community's four-legged family members. The festival features pet-centric activities like a police K-9 demonstration and the Best in Fur Awards. Food trucks at Town Square Park provide fresh meals and special treats for humans.
The fundraising event for the Town of Windermere Parks and Recreation is a scenic fun run that takes participants through the oak tree-lined streets of Windermere. Participants may opt to run a 5K or 10K route. Special awards await the top three finishers for each category.
The annual Halloween event sees the kids of Windermere parade down Main Street in their awesome costumes. The festival also offers snacks, storytime, and a fun hayride. After the activities, the children go trick-or-treating at the stores in Downtown Windermere.
Other attractions and activities
There is no shortage of attractions and activities available to Windermere residents. Outside of the many nearby shopping centers, restaurants, and museums, residents are also just a stone's throw away from some of the best theme parks and aquariums in the U.S.
Given all the wonderful reasons Windermere is such a wonderful community to be a part of, you too might want to call it home. Browse the list of luxury houses for sale in Windermere, FL, and then give us a call as soon as you're ready.
At The Christensen Group, we take great pride in helping you find your perfect home in Windermere. Over the last 14 years, we have provided highly personalized services to meet the exact needs of our clients and alleviate the stress associated with the home-buying process. This approach has helped us earn great reviews and repeat business from clients, as well as consistently rank among the top 1% of Realtors® in Central Florida in the last 10 years.