Welcome to Orlando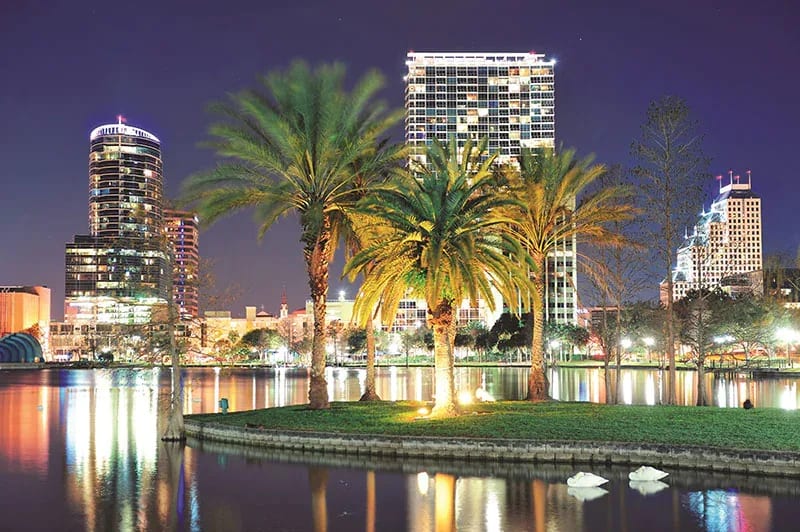 Any discussion about Downtown Orlando must begin with the crown jewel of The City Beautiful: the iconic and esteemed Lake Eola Park. Although the city of Orlando is home to more than 100 lakes, you may be surprised to learn that our historic Lake Eola is actually a giant sinkhole that formed in the 1870s.
Many years and storm floods later, the now glistening lake features a tiered fountain at its center that you may recognize from both the Orlando flag and the official logo for the City of Orlando. Surrounding the lake on all sides is a paved 0.9-mile path that is frequently buzzing with families, couples, dog walkers, joggers, and other outdoor enthusiasts looking to enjoy the scenic 23-acre park.

Naturally, we'd be remiss to not mention the most famous residents of Lake Eola and a brief stroll is all it'll take for you to meet them too. The pride and joy of the area are over 50 swans from five different breeds that all call the renowned lake their home. Swans have inhabited Lake Eola since 1922 and directly influenced one of Downtown Orlando's most unique and treasured modes of transportation.
Of course, we're talking about the city's swan-shaped paddle boat rentals that offer passengers serene, unforgettable skyline and fountain views from all sides of the lake. Other activities available to park visitors include enjoying live performances in the Walt Disney Amphitheater, grabbing a bite to eat at nearby restaurants, feeding the swans, or simply relaxing amongst vibrant flower beds and a gorgeous view of all that gave Orlando its nickname.
All of this has come together to help make Lake Eola one of the most photographed and iconic places in Downtown Orlando, but the prestigious park is only one of many locations that make the downtown area a top destination in
Central Florida
. Beyond Lake Eola, locals and visitors alike can enjoy a wide array of Downtown Orlando entertainment, some of which are even free to the public such as annual festivals, art galleries, and more.
For the bookworms among us, Downtown Orlando is home to the largest public library building in the state of Florida. For sports fans, the Amway Center features 3 of Orlando's major sports teams: the Orlando Magic (NBA), the Orlando Predators (Arena Soccer League), and the Orlando Solar Bears (ECHL/ice hockey). For my fellow performing arts lovers, the Dr. Phillips Center has no shortage of Broadway shows, live entertainment, educational programs, and more to keep you engaged.

When the sun sets, Downtown Orlando comes to life with virtually endless nightlife offerings from hole-in-wall bars to spirited multi-story nightclubs. A varied crowd of locals, tourists, and university students make up the bustling and colorful energy of Downtown Orlando with the vast majority of nightlife options being spread out across Orange Avenue and Church Street. For those who wish to reside in Downtown Orlando, the city offers historic homes on brick-paved streets and charming condos in an energetic mix of diverse districts and colorful neighborhoods.
As with many great cities, there is no shortage of mouth-watering dining options on every corner and breathtaking views to accompany them. With boundless local eateries to choose from, it's incredibly easy to be at a loss for choices so consider forgoing making a choice altogether! Let your Downtown Orlando explorations (and your nose) guide you to whatever grabs your interest first. From swan boats, pedicabs, and bikes to scooters, the fare-free Lymmo bus, or the SunRail—however you choose to get around Downtown Orlando, your journey is sure to be just as fun as the destination itself.