Welcome to Lake Nona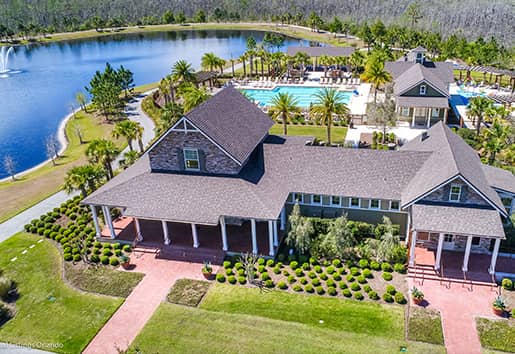 For residents of Lake Nona, "home" is a scenic, master-planned community that places a strong emphasis on health and well-being. It has from its very beginnings. This ingrained focus is one of the things that makes Lake Nona unique. It has also drawn a good bit of national attention to the community.
Just in the last couple of years, Lake Nona has been featured by "CBS This Morning" and The Wall Street Journal as a shining example of wellness real estate. What that means for those who reside there is home life in a family-friendly community that fosters a fit, happy, and healthy lifestyle through amenities like these.
A smart Neo Urban Environment. Lake Nona is 20 minutes from downtown
Orlando
– far enough to have a suburban feel. But its blend of urban and suburban features means that residents get the best of both worlds. Varied neighborhoods dot the 17-square-mile landscape in a well-thought-out design. Housing options range from townhomes to waterfront homes and golf course estates overlooking the Tom Fazio-designed course. Parks, lakes, and amenities are interwoven to enhance neighborhood walkability. And, technology perks associated with a smart, connected community enhance residents' lives.
Lake Nona is also home to a cluster of state-of-the-art hospitals and life sciences facilities that bring leading-edge medical treatments, education, and research to the heart of the community. Dubbed " Medical City," this campus spans 650 acres. And for a good number of those who call Lake Nona home, the healthcare campus is where they work, with the commute being a short walk for some.
With 1,000-plus community events each year, there is ample opportunity to connect with neighbors. Retail and dining experiences are plentiful and include Lake Nona Town Center and unique food hubs like the eateries fashioned out of upcycled shipping containers at Boxi Park. Athletic parks and playgrounds are peppered throughout the neighborhoods. Fitness centers and walking/cycling trails abound. Water sports await at Nova Adventure Park. And residents can enjoy all things tennis at the new USTA National Campus.