Welcome to Celebration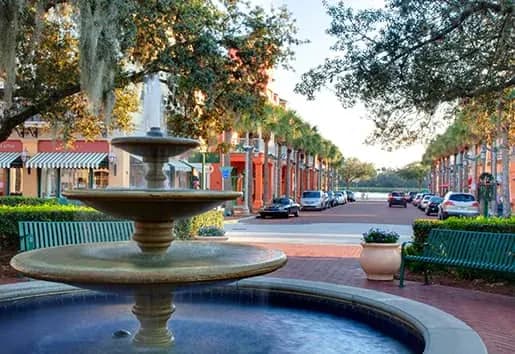 Originally developed by The Walt Disney Company, the community of Celebration is situated in northwest Osceola County, just 30 minutes from
Downtown Orlando
and 20 minutes from Orlando International Airport. The community embodies the purest definition of their namesake and truly delights in the celebration of family and friendship with their fellow neighbors.
Celebration is separated into areas referred to as "villages" that were designed by world-renowned architects. Residential offerings include everything from single-family terraces, bungalows and garden homes to cottages, manors, and estates. Many townhomes and condominiums are also available for residents to enjoy calling home. Celebration's residential designs are a unique cross-pollination of gorgeous Classical, Colonial, French, Coastal, Mediterranean, and Victorian exteriors mixed with contemporary floor plans. Most of the homes also feature a welcoming front porch and convenient access to rear garages via a service alley.


Residents of Celebration enjoy five large recreational areas with multiple amenities including more than 40 neighborhood parks, over 26 miles of walking trails, and a Community Center with free classes for cooking, gardening, art, writing, and technology. Within the community's boundaries, residents also benefit from schools, a fire station, office complexes, churches, a gas station, the West Osceola Branch Library, and even a hospital and fitness center.


Modeled after charming small American towns, Celebration Town Center downtown is a community tradition with brick-lined streets and the finest selection of restaurants, shops, and boutiques. You're sure to find something for everyone in the family as the Town Center is truly the heart and hub of this community. Public events are regularly held in the Town Center and organized on an online Community Calendar as Celebration embraces technology as an essential means of connecting one another. Every resident even has access to a Celebration email address as well as an electronic identification card.


Celebration hosts a multitude of events every year, including community-wide yard sales, an art show, an exotic car festival, an Oktoberfest Celebration, an Independence Day fireworks celebration, and even a "Posh Pooch" festival. Celebration's most beloved tradition occurs during the Christmas season when "snow" (small-scale soap flakes) is released into the Town Center to the delight of residents and visitors alike. Celebration has successfully created a one-of-a-kind community with a strong, unsurpassed sense of self that makes this destination an inviting and exciting place to live, work, and play.